FAQs
Product Information
Fabric
T-shirts - 180 GSM, 100% Cotton Fabric
Kids T-shirts - 180 GSM, 100% Cotton Fabric
Tote Bags - Canvas Cotton
Printing
All our products are screen-printed.
Screen-printed because:
• More durable print,
• Water-based environment friendly inks,
• No rubbery glossy print. Just a neat soft-feel print.
Sizes
T-shirts - Regular Fit sizes running from XS to 3XL. View Size Chart.
Kids T-shirts - Sizes for age groups from 1-2 years old to 12-14 years old. View Size Chart.
Ensure you check the size chart on each product page before placing an order. Shrinkage if any will be within acceptable industry norms.
Washing Instructions
Normal wash cold. Hand-washing is recommended to increase the life of your t-shirt.
Do not iron the print.
Do not bleach or tumble dry.
Any special care instructions are mentioned on individual product pages.
Will the prints look exactly like they do on the website?
Not 100 percent. Note that the picture is an approximation. Minor differences may arise, for example in the relative size of the print on the product, or in the color representation.
Order Process Flow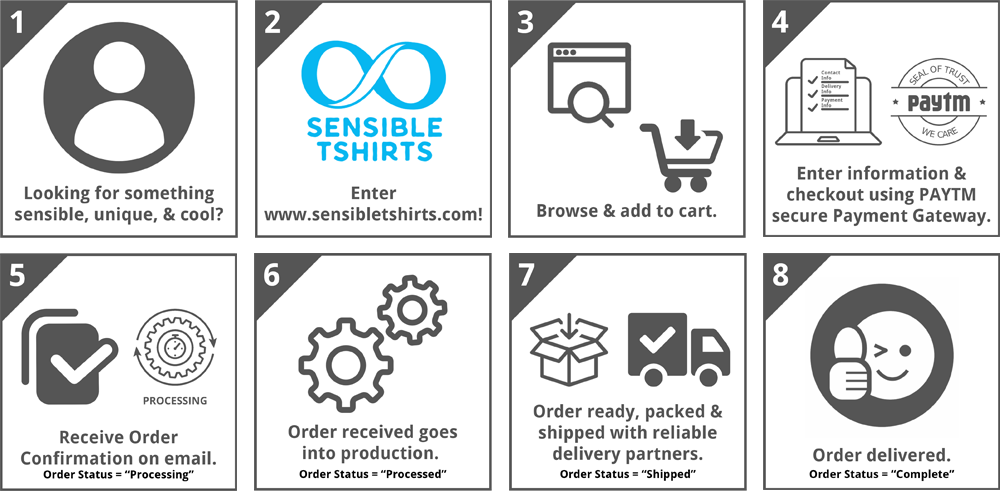 Delivery Information
Click here for Delivery Information.
Payment Information
It is our endeavour to provide you a streamlined checkout experience.
Powered by PAYTM secure payment gateway, following are the payment options accepted:-
1. Domestic credit cards issued by banks and institutions that are part of the Visa, Mastercard, American Express & Rupay
2. Debit cards
3. Netbanking / Direct Debit payments from select banks in India
4. UPI (PAYTM, Google Pay, Amazon Pay, etc) & Wallets
A full list is available at the time of Check Out and prior to making payments for purchases. As prescribed by the financial institutions issuing the credit or debit cards affiliated with Visa and Mastercard you will be required to submit your 16-digit credit card number, card expiry date and 3-digit CVV number (usually on the reverse of the card) when you make your online transaction using your Credit or Debit card. You should also have enrolled your Credit Card with VBV (Verified by Visa) or MSC (Mastercard Secure Code) to complete the transaction.
With the aim of promoting digital payments, we currently do not support COD (Cash On Delivery) payment option.
How to know if my transaction was successful?
Once your transaction is successful through our payment gateway, you will redirected to our Thank You page which is a confirmation that your payment was successful. Additionally, an email confirmation with your order details will also be sent to you.
There was an error while completing the payment and the amount is debited from my account/card. What should I do?
No worries! Transactions can fail because of network issues between the Payment Gateway and the banks or your card operators. This may also happen if the payment gateway is experiencing high volumes. Your money is absolutely safe and will either reach us or be refunded back to you by your bank.
What should I do if my payment fails?
In case of successful payment, an email confirmation with your order details will also be sent to you. In case of payment failure, please retry ensuring:
1. Information passed on to payment gateway is accurate i.e. account details, billing address, password(in case net banking).
2. Your internet connection is not disrupted in the process.
You can email us at sensibletshirts@gmail.com for any support or clarifications.
Exchange & Cancellation Policy
Click here for Exchange Policy & Cancellation information.
Track Order
Order ID:


Email: